03. Mai – 06. Mai 2018
PGA TOUR:

Wells Fargo Championship
May 3 – 6 , 2018, Quail Hollow Club, Charlotte, NC
Purse: $7,700,000 FedExCup Points: 500
Jason Day landet seinen 12. PGA Tour Sieg bei Wells Fargo
Resultat:
1
Jason Day
(AUS/-12//69/67/67/69//272)
T2 Aaron Wise (USA/-10//68/68/70/68//274)
T2 Nick Watney (USA/-10//72/67/66/69//274)
…
T55 Tiger Woods (USA/2//71/73/68/74//286)

T27 Alex Cejka (GER/-1//70/71/71/71//283)
T42 Martin Kaymer (GER/1//73/67/73/72//285)
MISSED CUT Stephan Jaeger (GER/6//76/72//148)
Embed video
©
by
PGATOUR
Leaderboard der FedExCup-Wertung
World Golf Ranking
EUROPEAN TOUR:
GolfSixes
May 05 May 06, 2018, Centurion Club, St Albans, England
Purse: €1,000,000
TEAM FORMAT:
2 Days | 32 Players | 16 Teams | 2 Player Teams
GROUP STAGES
6 Holes
Matches are played over a six hole course in a greensomes matchplay format.
The winner of each match will be the team with most holes won at the end of six holes.
3 Points For each match win
1 Points For each match draw
0 Points For each match loss
IRELAND GEWINNT DIE 2018 GOLFSIXES
Embed from Getty Images
Paul Dunne und Gavin Moynihan (L) of Ireland zelebrieren den Sieg mit der Trophäe für GolfSixes im Centurion Club am 6.Mai8 2018 in St Albans, England. (Photo by Ross Kinnaird/Getty Images)
FINALS:
Frankreich 0-2
Ireland
PlayOff 3./4. Platz:
Australia 0-3
South Korea
SEMI FINALS:
South Korea 1-2
Ireland
Australia 1-3
Frankreich
QUARTER FINALS:
Thailand 1-2
Korea
Irland
2-0 England Women
Australien
2-0 European Women
England Men 0-2
France
RUNDE EINS
England Women und European Women steigen auf zu den letzten acht Teams bei den GolfSixes im Centurion Club.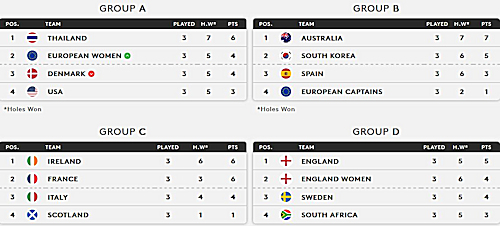 Teilnehmende Länder:
DENMARK:
Thorbjørn Olesen & Lucas Bjerregaard
AUSTRALIA:
Sam Brazel & Wade Ormsby
ENGLAND:
Eddie Pepperell & Matt Wallace
ENGLAND WOMEN:
Georgia Hall & Charley Hull
EUROPEAN CAPTAINS:
Thomas Bjørn & Catriona Matthew
EUROPEAN WOMEN:
Mel Reid & Carlota Ciganda
SWEDEN:
Alexander Björk & Joakim Lagergren
FRANCE:
Mike Lorenzo & Vera Romain Wattel
IRELAND:
Paul Dunne & Gavin Moynihan
ITALY:
Edoardo Molinari & Renato Paratore
SCOTLAND:
Richie Ramsay & Scott Jamieson
SOUTH AFRICA:
George Coetzee & Haydn Porteous
SOUTH KOREA:
Soomin Lee & Jeunghun Wang
SPAIN:
Pablo Larrazábal & Adrian Otaegui
THAILAND:
Thongchai Jaidee & Kiradech Aphibarnrat
USA:
Daniel Im & David Lipsky
Externe Videos: Highlights, Preview, News, Interviews, usw. ↵
Höhepunkte vom Samstag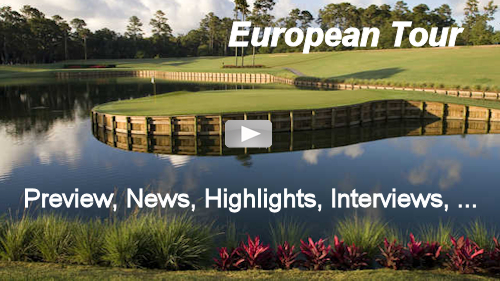 Externe Videos
©
by
European Tour
. Du verlässt die Golfswing4You Page.
Leaderboard der Race to Dubai-Wertung (RTD)
World Golf Ranking
LPGA TOUR:

Volunteers of America LPGA Texas Classic
May 3-6, 2018, The Colony, TX
Purse: $1,300,000
Race to the CME Globe: 500 Points
Format: 72 holes | Par: 71 | Yardage: 6,475
Auf Grung der Wetterlage (Sturm, Regen, Nebel) wurde das Tournament auf 36 Löcher reduziert.
Resultat:
1
Sung Hyun Park
(KOR/-11//65/66//131)
2 Lindy Duncan (USA/-10//68/64//132)
3 Yu Liu (CHN/-9//67/66//133)

T57 Leticia RAS-ANDERICA (GER/E//75/67//142)
T68 Sophia POPOV (GER/+1//71/72//143)
MISSED CUT Sandra Gal (GER/+2//67/77//144)
Externe Videos: Highlights, Preview, Features, Interviews, …
↵
Highlights Schlussrunde der Volunteers of America Lpga Texas Classic 2018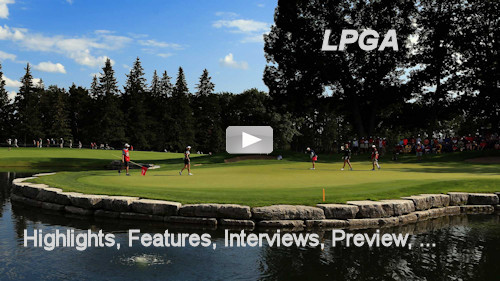 Externe videos
©
by
LPGA
. Du verlässt die Golfswing4you Page!
Leaderboard der Race to CME-Wertung