27. Juni – 30. Juni 2019
PGA TOUR:

Rocket Mortgage Classic
JUN 27 – 30, 2019, Detroit Golf Club, Detroit, MI
Purse: $7,300,000 FedExCup Points: 500
×
Rocket Mortgage Classic Full Leaderboard
Embed from Getty Images
Nach Führung an allen Tagen der 2019 Rocket Mortgage Classic gewinnt
Nate Lashley
(USA) seinen ersten Titel auf der PGA TOUR überlegen mit 6 Schlägen Vorsprung.
Bester Österreicher Sepp Straka als geteilter Elfter. Die Deutschen schafften den Cut nicht.
Resultat:
1
Nate Lashley
(USA/-25//63/67/63/70//263)
2 Doc Redman (USA/-19//68/67/67/67//269)
T3 Rory Sabbatini (SLO) und Wes Roach (USA) beide -18//270

MISSED CUT Stephan JÄGER (GER/-2//72/70//142)
MISSED CUT Alex CEJKA (GER/-1//73/70//143)

T11 Sepp STRAKA (AUT/-16//68/67/70/67//272)
Nate Lashley wins in wire-to-wire fashion at Rocket Mortgage
Video
©
by
PGATOUR
.
Leaderboard der FedExCup-Wertung
Men's World Ranking
EUROPEAN TOUR:
Estrella Damm N.A. Andalucía Masters hosted by the Sergio Garcia Foundation
Jun 27 Jun 30, 2019, Real Club Valderrama, Sotogrande, Spain
Purse: €3,000,000
×
Andalucia Masters Full Leaderboard
Resultat:
1
BEZUIDENHOUT Christiaan
(RSA/-10//66/68/69/71//274) € 500,000
T2 ARNAUS Adri (ESP), DE LA RIVA Eduardo (ESP), LORENZO-VERA Mike (FRA), QUIROS Alvaro (ESP) und RAHM Jon (ESP) alle -4//280 € 180,666

T8 RITTHAMMER Bernd (GER/-2//71/72/69/70//282) € 61,800
MISSED CUT Schmitt Max (GER/+3//73/72//145)
MISSED CUT Kieffer Maximilian (GER/+6//73/75//148)

MISSED CUT Schwab Matthias (AUT/+6//75/73//148)
Day 4 Highlights – 2019 Estrella Damm Andalucia Masters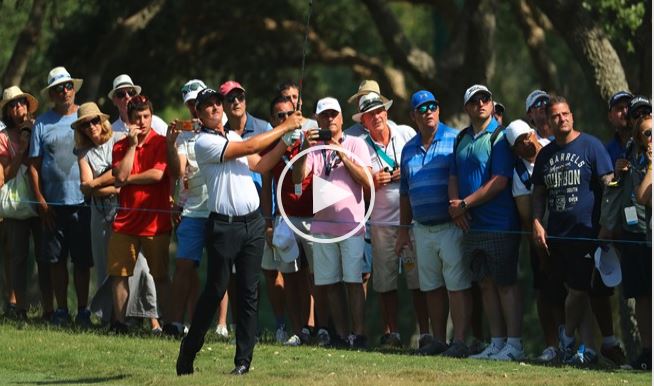 Externes Video
©
by
European Tour
.
Leaderboard der Race to Dubai-Wertung (RTD)
Men's World Ranking
LPGA TOUR:

WALMART NW ARKANSAS CHAMPIONSHIP PRESENTED BY P&G
28-30, 2019, Pinnacle Country Club, ROGERS, ARJUN
Race to the CME Globe: 500 Points
Purse: $2,000,000
Format: 54 holes | Par: 71 | Yardage: 6,331
×
Walmart NW Arkansas Championship Full Leaderboard
Resultat:
1
Sung Hyun Park
(KOR/-18//66/63/66/195) $300,000
T2 Danielle Kang (USA), Hyo Joo Kim (KOR) und Inbee Park (KOR) alle -17//196 $141,128

T62 Gabsa Isabella (GER/-5//68/70/70//208) $4,663
T69 Gal Sandra (GER/-3//66/72/72//210) $4,106
Highlights der Finalrunde der 2019 Walmart NW Arkansas Championship
Video
©
by
LPGA
.
Leaderboard der Race to CME-Wertung
Women's World Ranking