14. Juni – 17. Juni 2018
PGA TOUR und EUROPEAN TOUR:
U.S. Open
Jun 14 – 17 2018, Shinnecock Hills GC, Southampton, NY
Purse: $12,000,000 FedExCup Points: 600
Titelverteidiger: Brooks Koepka ($2,160,000)
Brooks Koepka
verteidgt seinen Vorjahreserfolg mit einem Schlag Vorsprung vor dem sensationell spielenden Tommy Freetwood (ENG), dem es als sechstem Spieler gelang, bei der US Open eine 63 zu spielen.
Resultat:
1
Brooks Koepka
(USA/+1//75/66/72/68//281) $2,160,000
2 Tommy Fleetwood (ENG/+2//75/66/78/63//282) $1,296,000
3 Dustin Johnson (USA/+3//69/67/77/70//283) $804,023
…
T6 Xander Schauffele (GER/USA/+6//72/74/72/68//286)
MISSED CUT Martin Kaymer (GER/+18//83/75//158) $357,959
Teryn Gregson rekapituliert die Finalrunde der 118. U.S. Open 2018.
Embed video
©
by
PGATOUR
Leaderboard der FedExCup-Wertung
World Golf Ranking
Leaderboard der Race to Dubai-Wertung (RTD)
LPGA TOUR:

Meijer LPGA Classic for Simply Give
Jun 14-17, 2018, Blythefield Country Club, Grand Rapids, MI
Purse: $2,000,000
Race to the CME Globe: 500 Points
Format: 72 holes | Par: 71 | Yardage: 6,451
Titelverteidigerin Brooke M. Henderson
Resultat
So Yeon Ryu
gewinnt die Meijer LPGA Classic 2018.
Ausgezeichnetes Ergebnis unsere deutschen Ladies: Caroline Masson (2), Sophia Popov (T13) und Sandra Gal (T21). Leticia Ras-Anderica schaffte den Cut leider nicht (T114).
Embed from Getty Images
So Yeon Ryu (Korea) in der Finalrunde der Meijer LPGA Classic im Blythefield Country Club in Belmont, MI, USA 17. Juni 2018. (Photo by Jorge Lemus/NurPhoto via Getty Images)
Resultat:
1
So Yeon Ryu
(KOR/-21//64/67/69/67//267) $300,000
2 Caroline Masson (GER/-19//67/66/68/68//269) $182,956
3 Lydia Ko (NZL/-18//69/67/67/67//270) $132,721
Deutsche Spielerinnen:
2 Caroline MASSON (GER/-19//67/66/68/68//269) $182,956
"It's obviously a great finish with a huge putt on the last. I was barely on the green and made it. I don't know what that was, 24 meters, a long way, 70 feet or something. So yeah, super happy about the finish today. Second place is great."
T13 Sophia POPOV (GER/-14//67/68/67/72/274) $27,846
T21 Sandra GAL (GER/-12//68/64/72/72//276) $20,284
MISSED CUT Leticia RAS-ANDERICA (GER/+2//74/72//146)
Externe Videos: Highlights, Preview, Features, Interviews, …
↵
Highlights von So Yeon Ryu bei der 2018 Meijer Lpga Classic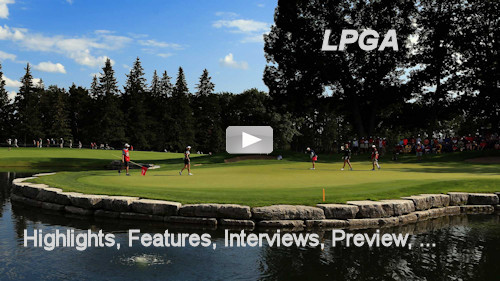 Externe videos
©
by
LPGA
. Du verlässt die Golfswing4you Page!
Caroline Masson Highlights in der Finalrunde:
Embed video
©
by
LPGA
Leaderboard der Race to CME-Wertung