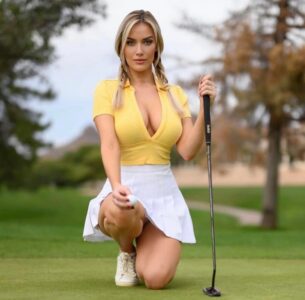 Paige Renee Spiranac (born March 26, 1993) is an American social media personality, golf instructor and former professional golfer. She has over 260,000 subscribers and 145 instructional videos on YouTube and 3.2 million Instagram followers. She played Division 1 college golf at both the University of Arizona and San Diego State University, winning All-Mountain West Conference honors during the 2012–13 and 2013–14 seasons, and leading the Aztecs to their first Mountain West Conference Championship in 2015.


Einige im Youtube Golf Channel Paige Spiranac präsentierten Videos möchten wir Dir hier vorstellen.
Die Homepage von Paige Spiranac.

1. How to Hit from Fairway Bunkers

In my opinion the 60yd fairway bunker shot is the hardest shot in golf! I'm taking you through how I hit from fairway bunkers – and giving you the same tips that the great Gary Player once taught me.


Embed video
©
by
Youtube/Paige Spiranac
2. The BEST Game to Improve Chipping & Putting
This is possibly the best way to improve your chipping and putting! Not only are you practicing them, but you're also working on bringing your range game to the course and performing under pressure.
Embed video
©
by
Youtube/Paige Spiranac
3. Why You NEED to Gap Your Wedges and Irons!
Your golf score is really going to thank me for this one 🙂 This week we're talking all things gapping for wedges and irons! Why it's important, when you should do it, and what gapping even means in the first place. This is an amazing FREE service they offer at Club Champion!
Embed video
©
by
Youtube/Paige Spiranac
4. Top Three Ways to Chip from Tight Lies
Chipping from tight lies can be one of the toughest and most daunting shots in golf, so I'm here to give you my top three shots to make it a little easier! We're covering a basic chip shot, a low rolling shot, and of course the flop shot.
Embed video
©
by
Youtube/Paige Spiranac
5. The Three Easiest Ways to Hit from Tight Lies
Today I'm showing you the three easiest, fool proof ways to hit off of a tight lie. If you're out on the golf course and you don't want a fussy, complicated shot, one of these three techniques will be perfect for you!
Embed video
©
by
Youtube/Paige Spiranac
6. How to Hit Fades, Draws, and Straight // Golf Tutorial
If you've ever wanted to be able to hit fades and draws in golf – and of course straight! – I've got you covered. It's not always easy to get the golf ball to do what you want, but these simple tips and techniques will help you be on your way to being able to consistently shape the ball.
Embed video
©
by
Youtube/Paige Spiranac
7. How to Swing a Golf Club // Being Basic with Paige Beginner Golfer Series
Next up in my Being Basic with Paige golf basics instructional series is FULL SWING! We've been through all the things you need to get prepared – now it's time to actually get hitting. This is a beginners tutorial for people who have never hit a golf ball before (or have only hit a few times), although more intermediate players might get a few good tips out of it as well.
Embed video
©
by
Youtube/Paige Spiranac