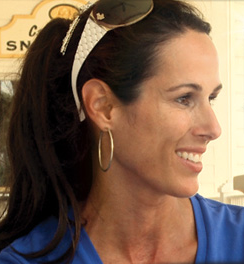 MORE ABOUT CHRISTINA
Christina Ricci is PGA, LPGA Class A, TPI Golf Level 3, Power Level 2 & Fitness Level 2 Performance Coach, CrossFit® Level 2 Trainer, a Best-Selling Golf Author with four instructional books. Check out her popular Youtube More Pars channel. You can also find her on Instagram and Facebook

Christina took up the game in 2000 and dropped to a 5 handicap in five short years. She published her first book A Girl's On-Course Survival Guide to Golf in 2008 and never looked back. She hosts More Pars Golf Camps across the country, teaches locally at the beautiful Atkinson Resort & Country Club located in Atkinson New Hampshire, 45 minutes north of Boston. She's been featured on the cover of GolfTips magazine and her popular golf tips are featured on the Golf Channel, her More Pars YouTube Channel, national publications, and online portals.

Einige in ihrem Youtube Golf Channel Youtube More Pars channel präsentierten Videos möchten wir Dir hier vorstellen.
Alle Videos sind © by More Pars Golf

1. Improve Your Golf Rotation – Episode 1


Embed video
©
by
Youtube
2. Improve Your Golf Rotation – Episode 2
Embed video
©
by
Youtube
If you want more pars, join me in this special series featuring awesome golf coach and World Long Drive competitor, Josh Koch! We show you some great feels and cues along with key points to ensure that your golf rotation during the backswing is spot on. Josh just launched his own YT channel too. Search Hit Bombs and definitely subscribe 🙂 Follow him on instagram @joshkochgolf and mine is @getmorepars
3. Pressure in Your Golf Swing
Embed video
©
by
Youtube
4. Trail Elbow Getting Stuck?
Embed video
©
by
Youtube
5. Lead Arm During TAKEAWAY
If you want more pars, let's take a closer look at your takeaway in your golf swing. Specifically, your lead arm. What's it doing? If it is over-rolling you could be in trouble. Let's find out why. It could explain that slice or pull golf shot.
Embed video
©
by
Youtube
6. Let's all be Hogan!
If you don't mind …more pars, let's be more like Hogan! I showcase one of his greatest tips. There is a VERY important point about this tip that I'd like to bring to your attention…if you don't mind.
Embed video
©
by
Youtube
7. DRIVER vs IRON SWING (Pros versus Ams – the real truth)
In this multi-part series (4), we cover the non-negotiables of the golf swing by comparing Touring Pros versus the Average Player. GEARS GOLF is a fun way to really see what the heck is going on and provides incredible insight for you to explore in your own golf swing.
Embed video
©
by
Youtube