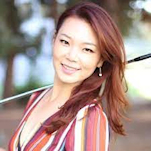 MORE ABOUT AIMEE CHO
Aimee Cho has been hooked on golf since the age of six. Playing for the University of Florida. Aimee was selected to be on the NCAA All-American Team and SEC First Team two years in a row and was only the 2nd freshman in UF history to be the SEC's individual golf champion.
After graduation, Aimee played professionally for 10 years, living out a childhood dream of playing golf professionally and participating in iconic events as the US Women's Open in 2006 and 2013. After retiring from pro golf because of chronic back problems, Aimee worked as a television broadcaster providing golf advice on a Korean television station in Los Angeles and coaching students of all levels in golf.
The 'Golf with Aimee' Youtube channel now has over 32 million views and carries hundreds of high-quality golf lessons in English and Korean. For more information, visit:
www.aimeelist.com/
www.mpswing.com/

www.instagram.com/golfwithaimee/
www.facebook.com/golfwithaimee
https://twitter.com/golfwithaimee

Einige in ihrem Youtube Golf Channel Golf with Aimee präsentierten Videos möchten wir Dir hier vorstellen.
Alle Videos sind © by Golf with Aimee

1. THIS Can Finally Fix Your Driver Slice

Driver slice is one of the mot common missed shot tendencies amateurs have. Today I'll show you a super simple explanation that will help you to understand where the slice comes from, and how to fix it on your own! The Aimeefied lesson will make your life easier!


Embed video
©
by
Golf with Aimee/Youtube
2. Want To Hit Your Driver Longer And Straighter?
Want to hit long and straight drives like a tour player? Then you don't want to miss this tip! This is an important tone-setter for the drive swing, watch what the pros do and you'll e hitting like one in no time.
Embed video
©
by
Golf with Aimee/Youtube
3. Powerful Hip Turn Has Never Been Easier
Who is looking for more power and distance off the tee? I'm sure most of golfers already have heard of and tried out hip turns for power. But what we need to know is that hip turn needs to be powerful, but at the same time controlled and in sync with the rest of the body. It sounds complex but I will explain it all and show you an Aimeefied drill so you can work on it all on your own! No stress, enjoy more, is what we want!
Embed video
©
by
Golf with Aimee/Youtube
4. Hinge To Boost Your Driver
Who needs help with driving? If you have issues relaxing your hands, have slow club head speed, or have slicing issues off the tee, then you need to watch today's driver hinging lesson. If you get this hinging going, then you will be able to relax your hands, hinge correctly, gain club head speed so you can hit the driver long and straight off the tee. Today I'll be showing you bonus moves to be able to lag and release as well! enjoy!
Embed video
©
by
Golf with Aimee/Youtube
5. 3 Simple Tips To Upgrade Your Driving
Driver series is here! We will cover many different parts of the driver swing during this series. We will be hitting the most important positions necessary for you to hit it great off the tee. But, we have to double check your basics first! I will show you how to check on the 3 important positions in the setup.
Embed video
©
by
Golf with Aimee/Youtube
6. Driver Power Lesson: Hang back
Are you struggling with driver shots off the tee? Today's tip will change your driving forever! I will show you how to hit the drives long & straight!
Embed video
©
by
Golf with Aimee/Youtube
7. Stop Lifting Your Head
How do you fix the head from lifting first?
Today I will talk about what defines "lifting your head" and show you how you can keep it down! I hope you enjoy!
Embed video
©
by
Golf with Aimee/Youtube
8. PRO Putting Drill You Must Know
Let's find out your putting tempo! Today we will talk about the importance of your tempo during putting. This InBirdie Tempo mat measures your tempo and you can also work on it to prefect it. I show you an Aimeefied drill to help you create a consistent putting stroke, which will lead to a consistent tempo! We want a nice tempo to help make more putts.
Embed video
©
by
Golf with Aimee/Youtube